My wife and I married on New Year's Eve, six years ago. At the start of each new year since then, I've compiled my Twitterings about her — and then about our two daughters.
Though for the last two years I have avoided spamming these moments across Twitter, I feel reasonably secure in posting them to a blog that (with good cause) nobody reads.
Ergo, welcome The Tweetest of Nothings.
Previous years: 2015 / 2014 / 2013 / 2012 / 2011
January
05
Daughter has four gray hairs. She's three years old.
"I guess I'm turning into an old kid, to match my soul."
08
Baby pops Daughter across the mouth in a rage. Daughter looks her in the eye and says, calmly: "It looks like you're having a hard time. It's okay to be mad but it's never okay to be mean. We have to use gentle hands." Hug, kiss; everything is still.
Phew.
10
My daughter is getting into The Joy of Painting. It's all happy little clouds in here. There are no mistakes; just happy little accidents.
---
As of today, every time Baby sees an elephant — real, drawing, toy; stylized, naturalistic; gray, blue; large, small — she responds with an enthusiastic "PBBBBBBBBBBRRRRRT!!!"
Yes, child. Exactly. You will go far.
11
Daughter:
"Mommy, did you know that Papa used to live in California? But he was lonely, so you got him from the airport and kissed him?"
Wife:
"Yes, honey. I am somewhat familiar with that story."
Daughter:
"But did you live happily ever after or not, because this story makes me bored."
12
So, my daughter's manatee (courtesy of Lan) is named Manny. Simple so far. Tonight, she revealed that "Manny" is short for his full name, Manatee Manatee I Love You.
14
Daughter:
"Josie! Jos-eh! Do you want a hug?!"
Baby:
[grunts and crawls away]
Daughter:
"I think not."
16
Early in the morning. The baby crawls away.
Wife:
"Josie. Come back." She flops her arm.
I put my head on wife's shoulder. Kiss her cheek. "This'll draw her in." Indeed the baby hesitates and looks back at us, calculating whether she needs to break things up.
Wife:
"She's getting to be like Penny, that way."
With no warning, door pops open. "Was somebody talking about me?" Daughter asks.
And the cast is assembled.
18
As of a few days ago, Baby has officially entered the THAT stage. All day it's pointing fingers and "That! Thatthatthatthat! That. That!" You say no, she frowns, points harder, and insists, "THAT THAT! That that thatthatthat! That…"
She wants the world and she wants it… now.
19
Daughter heard her mother felt unwell, so she drew a picture of herself in the bath, with bubbles and toy fish. As you do.
20
I forgot that we had a Wii. It seems the last time we booted it up was two years ago. But now we have a hyperactive nigh-four-year-old, so it seemed… promising. When we booted up Wii Fit, our baby Penelope Mii went POOF and turned into a small adult Mii. Then the game went about formally explaining itself to her.
Two nights in a row now we have set her on the free run for around half a hour before bedtime. Yesterday it was miraculous; half of one story and she was down. We'll see how tonight goes…
---
"Mommy, look at my great invention! It's too bad you were not smart enough to think about it yourself."
22
To herself:
"Yeah, Penny. You're right, Penny."
To me:
"I love the the Penny that's in my brain."
23
My wife gave me worms. The worms are sour, and delicious.
24
Wife, reading off the grocery list:
"Religion?!"
[Beat]
"Oh, relish."
---
Daughter:
"Sometimes when I'm asleep I think the walls of the room move a little bit."
Me:
"Move how? Like, in and out?"
Daughter:
"They shift all over the place. Sometimes I'm afraid to go asleep."
26
Daughter struts up to me. "Hug?"
"All right," I say.
She stops a yard away, leans forward, and puts one foot in the air. I try to hug, but, uh. "What — this isn't…"
"Oh, sorry," she says. "I always pretend to do ballet when I hug people."
28
"Papa said he was sorry for snapping at me but I think he's a little bit confused. I don't remember him snapping his fingers or pretending to be an alligator or something like that. Silly papa."
---
Having hit the one-year mark, Baby's vocabulary is exploding.
Wife says "brush", she says "ushh" and taps her head.
Wife says "sparkles", she says "spspsps" and points to her sister. Because, you know.
Wife says "elephant", and she blows a trumpet sound.
Daughter says "kiss", and she jumps into her big sister's arms to hug and kiss her.
29
I heard my wife and daughter talking calmly, almost in a monotone.
Wife:
"I want to hit you in the face."
Daughter:
"What did you say?"
Wife:
"May I please hit you in the face?"
Daughter:
"No."
Wife:
"But it will feel so good."
Daughter:
"Not to me it won't."
I'm not sure how this conversation resolved itself.
February
05
Wife:
I wish I was a little kid again.
Daughter:
Oh that's sad. Want me to wipe your poopy bottom so you can feel small?
07
Daughter:
"Yeah! I'm a rock star."
09
Wife:
Air is invisible, but it's real. Look at my stomach when I breathe. See, my body is filling with air.
Daughter:
Love is invisible, and it's real too!
---
Wife walks up to daughter's doorway, and says, "Hey, what's up?"
Daughter responds with "I don't know what happened! I'm sorry!"
…
So. Daughter was covered in water from head to toe, naked and tangled up in yarn. Wife asked what happened; daughter became distracted, and went off on a tangent about a rabbit delivering the mail.
14
"Mommy, look at the card that Papa made you! It has people falling down, just like you like! And the blood drips into a heart shape!"
17
Daughter, watching The Joy of Painting:
"His mountain is okay. But if you want to see a
real
triangle, come watch me paint a pyramid! I'll show you how it's done!"
20
Daughter's deep thought of the day: "Why does the sun fade a piece of paper, but make our skin darker?"
23
"It's a little red alien sitting on a clock attached to a scale that has me on it."
"This is my invention cloud that makes teddy bears, and I'm going to build it!"
These art projects are getting strange.
24
Wife turns to grab a pen; in that moment, Daughter gets her head stuck in an Easter basket and baby gets her head wedged in the safety gate…
27
Drawing a tribute to Daughter's monster friend, Dogs (so named because he likes dogs).
"He's a little monster friend of mine, but he's not alive anymore. He got lost in a store and then his parents died out. And then he grew up and he died out too. I miss him…"
She is decorating the picture with golden threads, whispering "I will miss you… I miss you already. I still love you…"
"I wish I could go back to when he was a baby and was still around. But the only way to do that is to ride a unicorn over a rainbow…"
28
I wouldn't let Baby have a hair clip, and she has been glaring at me for ten minutes. Blink, child.
29
Took Daughter out with her tricycle. She isn't fond of pedaling. I kept leaving her in flat spaces to catch up.
"Nnguh! The ground is too rough!"
"The wind is blowing me back! The wind! It's so strong!"
"I told you not to go this way!!"
Actually, this is exactly the way she told me to go. I was going to go the other way…
---
"Hey, Mommy. Remember that secret you told me lasterday? I forgot what you said. How about you tell me all of your secrets so I can figure out which one it is."
---
"I'm not afraid of the dark. I'm just afraid of the monsters in the dark."
March
02
Some Guy:
"Hey ,little girl. What's your name?"
Daughter:
"Well, I don't usually want to share my name with people."
Some Guy:
"Oh, is it a secret?"
Daughter:
"I don't keep secrets from my mom. She's right over there. I'll scream your secret out
loud
so my mommy can hear!"
03
Teaching my one-year-old to play Mega Man 2. She's picking it up pretty quickly…
06
Wife, on David Byrne's dancing:
"They should just have him arrested for eye abuse."
---
Byrne:
"Anybody have any questions?"
Wife, regarding Tina Weymouth:
"Yes. Why ain't that girl sweaty?"
07
"Really, Mommy? You have no idea which planet I am from? Planet Earth! It's in the Milky Way. Gosh."
08
"Josie is a baby, but she's a bully. She keeps grabbing all my toys, so I am going to hide every toy in the house from her. I'll leave out the puzzles for her because I am not that ruthless."
---
"Mommy, how come every time you get mad at me, you call me Eric-Jon?"
10
"I'm so smart. I know how to drive a boat with a steering wheel. I know how to put on my shirt. I even know how to put a pillow in a pillowcase, but only if it's sticking out a little bit. I know everything, see?"
11
"Mommy, when you say 'don't hit' to Josie, that will only make her hit more because she doesn't know what 'don't' means. Maybe you should try another way?"
15
In a dream just now:
Daughter, singing:
"Chicken like a lime, a chicken like a lime…"
Me:
"You could certainly have chicken with lime juice on it. That's a thing you could do."
Daughter:
"Nah, I want one of nature's secret limes."
---
"Oh, Mommy. I already know how to make maple syrup. You get a tree with a grayish bark, with up-and-down patterns and five points on the leaves. Then you drill a little hole, and collect the sap, and boil it! Silly mama."
17
Daughter, to Baby:
"See, this is a manatee. She puts her head in the water and then comes back up for air, like a dolphin. Because they are both mammals… that means they both have
boobies
!"
---
Daughter:
"This coloring book is ridiculous. Why would they put flowers at the North Pole? What are they doing there? How are they growing?! I can't even."
18
Daughter, to Wife:
"The troll in
Glitter Force
is allergic to cats, and so are you. So, you are kind of the same. You're just like the troll."
20
Baby sure does not like to sleep. Wife trying to read her a book. "Dora's a Cunt," she says. "What?" I say. "Dora's Egg Hunt," she says.
24
There are no stairs squeakier than the stairs near a sleeping baby's room.
25
Not feeling well, so my wife picked me up pickle flavored popcorn.
Clearly she knows who she's dilling with.
26
"Papa always tells me to keep things in mind, but he must be mistaken".
April
10
Made meringues with Daughter the other day. Music playing: Michael Jackson — "Beat It".
---
Wife:
"I forgot my computer was shut off, unceremoniously… and I haven't been up here yet, to…"
[pause]
Me:
"To rectify that?"
Wife:
"To kill the wabbit. Wait, what?"
11
Wife, singing:
"If you lived here, you'd be home now… If you live here [abruptly looks out the window] what a nice cemetery!"
17
Wife:
"The worst way to wake up in the morning is to hear a tiny voice scream, 'one, two, three,
cannonball
,' and then open your eyes to see feet lunging toward you."
---
My daughter has been trying out catch phrases for a while. Right now she's on, "Don't even think about it, kid!" A little Edward G Robinson.
---
And today the baby finds her legs…
18
Wife trying to tell daughter lighthearted stories from her youth. Each one is an elaborate tale in which she gets someone else in trouble…
24
"Mommy, it's just TV. Nothing is going to jump out of the TV and knock on our door and ask to scare us."
Such polite monsters…
29
Daughter found
a weirdness
in The Goonies II the other day.
30
"Would you like another granola bar — one without raisins?"
"No, because I will still be hungry after I eat it."
"How about a graham cracker?"
"Yes, please. I won't be hungry when I eat it, because it's nice and long…"
May
09
Wife:
"I don't have a choice bone in my brain."
14
Wife:
"What else can't you share? Like, a bowl of soup. Don't do it! It's stupid!"
15
"Wow, that's a nice flower. Are you drawing more flowers for the bee?"
"Yep! This is a peppermint flower; it smells like peppermint. Except… I've never seen one before. Maybe I will, but they are only on the top of mountains, the size of giants!"
16
Daughter drew a bear today; was mixing primary and secondary colors in search of brown.
I wasn't allowed to photograph her machine for trapping monsters, because the design is top secret. As an example, it had trapped a dangerous monster bear with four legs and six arms.
18
"Mommy, you married a man who is pretty silly. Too bad he taunts me all the time. "
19
Daughter wonders why her fingers feel pain and temperature change, but not sadness and joy. Wife tries to explain the difference between senses and emotions, and she asks why they're all called feelings…
20
She lined up her stuffed animals to teach them about outer space. As part of their lesson, she drew the planet Earth…
22
Daughter having a conversation with a ceramic bird to delay eating breakfast.
"Be good, Breakfast Birdie. You go in the middle."
"Tweet tweet tweet!"
"Hahaha! Thats what you said last time…"
---
So Baby finally pointed to herself in a mirror and said "Dzho!"
About damned time, Ishmael.
---
My wife is the only person I've known to describe "fun size" candy bars as fun because of their size.
---
Wife:
"This is like the Bates Motel of parking lots of swimming pools."
23
"Is it okay for I to sit next to you?"
"Yep."
"Ahh… It's great to be a kid."
Is my daughter written by Bill Watterson?
28
A sort of conversation that happens frequently:
Wife:
"I just learned there was a Juneteenth celebration in Brunswick!"
Me:
"What did you say?"
Wife:
"Oh God."
Me:
"Hang on, I didn't hear you. There's a what?"
Wife:
"A Juneteenth celebration…"
Me:
"A…"
Wife:
"I keep forgetting I married a white dude."
Me:
"… "
30
Daughter puts a sock on her hand and makes a puppet:
"Hello, my name is Penny and I'm going to destroy your world! Ha ha ha ha ha!"
---
The baby can count. Had a few intimations of this, but it's beyond doubt now.
I'm holding a can; she is placing a set of toys inside. "One," I say. Plonk.
"Tsuh," she says. Plonk.
"Phih," she says. Plonk.
"Foh!" She says. Plonk.
And that's it. But. I mean.
---
Daughter:
"Don't eat your shirt, Josie, or else you won't have it anymore, and then you won't be a person."
---
Daughter, in regard to Colin Firth:
"That guy looks just like you, Papa!"
June
02
Packing stuff for the move. I place Daughter inside a large box. "You aren't really going to mail me away, are you? You're just joking. You won't really mail me away? I don't want to visit the penguins…"
05
Wife goes downstairs in the morning to find daughter in her pajamas, watching Jem, and eating chocolate pretzels. Wife takes away the pretzel bag; daughter shouts, "I'M LIVING MY BEST LIFE!"
15
Wife is sitting with Baby, eating breakfast.
Wife:
"A piece of cereal just fell out of her mouth, onto my lap, and I ate it."
Daughter:
"That's pretty clever."
---
Daughter just met an inchworm out back of the new house. "Mmm, I will always think of you."
It's true love.
For a moment she was crushed that she lost her friend. It turned out that it had climbed into her hair. Crisis averted.
Now making a terrarium.
And she lost him again.
No, wait. He's in the terrarium.
She has dubbed him Caterpie. And is singing him love songs…
16
So my younger daughter, unprompted, just said "PAH-LOO-KAH!"
Which of course means I have found the real Jo Palooka.
18
Baby went to the fair. Won a duck game. Got a Pooh bear.
---
"I'm gonna make Papa the best Father's Day present ever! It's going to be a magical unicorn, that will pop out and fight the bad guys for him, so he doesn't have to!"
21
Daughter, today:
"Don't taunt the baby!"
"You have to eat more fiber."
"She keeps whining because she needs more attention. Pay attention."
"If you didn't want me to touch it, you should have been more clear."
"If you make a schedule, you can get more done."
Four, going on forty…
24
Now when the baby gets upset, instead of crying she walks around with a smug expression and shouts, "CRY!" Over and over. And over.
27
Daughter:
"Mommy, I know we live in a world with those evil caterpillars, but we also live in a world with ladybugs. And ladybugs make me happy, and you make me happy. So this world is not so bad."
29
Wife:
"I'm so proud of you for doing that. It's amazing how much difference a year makes. You were nowhere near ready to try that a year ago, remember?"
Daughter:
"I remember being ready to try. You were the one who wasn't ready to let me do it. You've really grown in the past year, too."
---
Daughter:
"If I was trapped in a desert, I would poke Josie in the eye to make her cry. Hurting her would make me cry so much that there would be a flood, and I could swim away with all of my toys. Ta-dah!"
July
06
Baby sees one of those white mannequins with no face. Points, screams: "PAPA!! PAPA!!!"
08
Showing daughter Castle of Cagliostro for the first time. The Count just appeared. First thing she asks is if he made the counterfeit money.
---
Daughter is singing, incessantly: "Ooooh, look at all the lonely people / where do they all come from???"
14
The last few days, whenever you ask Baby to do something, she answers "'Kaaaaaaay," then waddles off to do it. If you're explaining what's happening, she will nod sagely, and when you're done talking will respond "'Kay."
---
Daughter:
"Some people are not nice because they never learned how to be nice. Or, maybe other people were mean to them. Either way, that's why their brain is broken."
18
Daughter playing with giant Barbie-scale horse. I make a little Duplo boy dance around beneath. Daughter clenches her jaw at the boy and hesitates.
"Uhh… she's going to try to poop in a little while, so…"
---
Today, Daughter drew "A turtle, an ant with lights on his antennae for he to see, and a box with a lemon on top of it for he to eat it. "
21
Daughter:
"Sometimes I try things, and they don't work out right. I feel bad for people like me, and Curious George. The whole world doesn't understand us."
23
While talking to the baby, my wife kept repeating the phrase "goo-goo girls"; mind went straight to a Muppet Babies version of Golden Girls.
24
Me, to baby:
"Get out of here, kid. You're horrible."
Baby, to me:
"Haaaaa-ri-buh!"
Me:
"Horrible!"
Baby:
"Haaribuh!"
---
Wife:
"What does the cat say?"
Baby:
"Meow!!"
Wife:
"What does the dog say?"
Baby:
"Woof woof!"
Wife:
"What does Penny say?"
Baby, in a shrill voice:
"
STAAAAHP
!"
28
Daughter is drilling wife on exactly how a sperm gets to the egg, during a spontaneous pregnancy. Wants her to build her a diorama…
30
"Hahaha! Well, I'm laughing because the sky is always blue. Ha!
"… I don't like the sky."
— Penelope the Sleepless
31
Daughter, wearing my galoshes as she leaps into the back yard: "I'm a little grown-up! Whoooaaaaa!"
August
02
I found Daughter crouched over the sad remains of a doughnut, that appeared to have been turned inside-out.
"You're a strange bird, Penelope."
"Oh…? I'm just eating all the skin."
"As I said, you're a strange bird."
03
My wife just referred to them as "potato tots"…
0_0
---
Wife, about Baby: "You know, whoa, she plays a mean peek-a-boo."
04
Wife:
"If I have to say 'Stop riding on your sister!' to either of them, one more time, I'm going to flip out."
---
Daughter can't understand why Wife is afraid of clowns. "Mom! It's just paint! And they juggle!"
13
Me:
"Why are all these snack cakes so sexual? Ding Dongs, Ho Hos, Twinkies…"
Wife:
"Sexual?"
Me:
"Yeah."
Wife:
"What do you think sex is?"
14
Baby:
"Gabba?"
Wife:
"No
Yo Gabba Gabba
now; it's Penny's turn. She wants
Ninja Turtles
."
Baby:
"Gabba?"
Wife:
"No, Turtles."
Baby:
"Gabba?"
Wife:
"No, it's Penny's turn."
Baby, angrily: "FINE!"
---
Game my daughter has been working on. She's lead designer here, lead artist. I'm just following her direction, when needed.
As she dictated:
This is a story of a unicorn. Her name is Rainbow Castle, or Rainbow for short.
Rainbow wants a doctor in case she gets hurt, and she wants a lot of houses for everyone, for she has a lot of friends.
* She is the first friend
* Cloud the cloud is second
* Rainbow the rainbow is the third
* And Bird the bird is her best-best-best-BEST friend, because she loves her a lot.
She needs to do a journey to find all of her friends, and when she finds her friends she will have a unicorn trophy.
15
Apparently "Momo com-bom-nah?", in Babygo, means "Elmo come on now?"
21
Baby has been inconsolable the last few days. Crying, screaming, tantrums. Today she woke and said, "Papa home? No. Papa work. Come back in car. Please."
Looks like it must be a Wonder Week…
23
Daughter, in the bath:
"I AM THE SOAP QUEEN."
September
09
Me, dangling Baby by her legs:
"Wheeeeeeeee!"
Baby, dangling by her legs:
"Uwaaaah! I don't want whee!"
Clearest thing she has said yet. Sometimes you need to shake it out of them.
10
Tried to explain keyframes and in-betweening…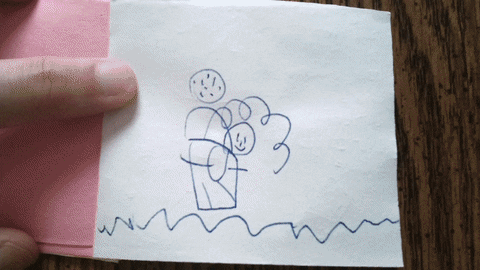 "A girl went on a hot air balloon and met a cow, a moon, and a butterfly, just so you know."
19
Daughter just drew a diagram for her plot to escape into the back yard.
"Here's the escape plan. You distract Mommy, and I will crawl out the door…"
21
The baby's first cogent sentence seems to be, "The turtles eat pizza." Not sure what to make of that.
23
Wife:
"Hello, baby… Hel-lo, baby…"
Me:
"Hi."
Wife:
"I wasn't talking to you."
Me:
"Oh?"
Wife:
"I was talking to my Doritos, in my mind."
Me:
"Oh."
25
Wife:
"So Josie learned all about camels today."
Me:
"Wow, really? What did she learn?"
Wife:
"… Camel."
---
Baby was freaking out, so Daughter asked her if she wanted to sit on her lap. Baby nodded and waddled over. All quiet.
October
01
Baby, on toy phone:
"Hi."
Me:
"Who you talking to?"
Baby:
"People."
Me:
"You're talking to people?"
Baby:
"Uh-huh. [To phone] Hi, poopy people!"
08
Daughter:
"Why is everyone mad at that man who wants to be leader?"
Wife:
"Because he said some bad things about girls."
Daughter:
"But what bad things? There's no bad things about girls."
Wife:
"You need to be the leader."
Daughter:
"I know. I know."
11
Daughter:
"Mommy, I'm going to do you a favor and lie down on the couch and watch TV all day, okay? That way you and Josie can spend quality time together."
---
Wife gives the baby a piece of apple.
Daughter:
What are you eating?
Baby:
Rabbit.
Daughter:
What does the rabbit taste like?
Baby:
Cat.
Daughter:
Where did you get the cat?
Baby:
Chicken.
Daughter:
Can I have a piece?
Baby:
No.
Daughter:
MOMMY! JOSIE WON'T LET ME HAVE A PIECE OF HER RABBIT-CAT-CHICKEN!
13
I think the baby is saying something about Pennyworm the Battlecorn…
21
Wife:
"What are you watching?"
Daughter:
"A new show."
Wife:
"What kind of show?"
Daughter:
"A fighting show. I love fighting shows!"
Wife:
"What? What kind of fighting show?"
Daughter:
"Superheroes. I love superheroes."
Wife:
"What's it called?"
Daughter, irritated:
"I don't know. I can't read, you remember?"
28
Daughter, age four:
"I'm afraid of heights and a lot of people looking at me at the same time."
30
Daughter slithering on belly, pushing along a stack of pillows to obscure herself.
"What are you, Solid Snake?"
"No."
"Mushy Worm, then."
November
06
Me:
"Wow, look at all the butter at the bottom…"
Daughter:
"I think they just couldn't control their butter machine."
Me:
"That's a very interesting supposition."
Daughter:
"Thank you! You're the funniest!"
08
A U2 song comes on the radio.
Wife:
Ugh. I don't like U2.
Me:
Nobody likes U2.
Daughter:
It sounds like a videogame. With a song in it.
14
I just woke my wife while leaving the room. "Joe Biden wishes you well," she said. "Rape whistle."
…
And on that note, good night.
15
So now when Baby gets scared in the night, the first person she calls to is her sister. The last few nights, instead of "Mommy!" or "Papa, papa, papa, papa, papa…" it's a wrought whine of "Pen-nyyyyy!"
Progress?
22
Daughter puts on straw trilby I bought the day she was conceived and a scarf I bought in Chinatown.
"Look, Papa! I'm you!"
December
05
Built a snowman with Daughter. It's wearing the same hat and scarf from earlier. She couldn't find a full-sized carrot, though, and wouldn't accept a baby carrot, so the face is incomplete…
Me:
"My snowman has no nose."
Daughter:
"So how does it smell?"
Me:
"Terrible!"
Daughter:
"… That's not funny, Papa."
06
Baby:
Orange?
Wife:
There's no more orange.
Baby:
Banana?
Wife:
You just had a banana.
Baby:
Pizza?
Wife:
What the hell! There's no pizza!
09
Daughter, Before:
"Oh, okay, Josie. You can have a hug."
Daughter, After:
"Come on, Josie! Let's hug some more!!"
10
Wife:
"Are you okay?"
Baby:
"No."
Wife:
"What's wrong?"
Baby:
"Sad."
Wife:
"Why are you sad?"
Baby:
"Papa. Juice. Penny. No. Josie."
Wife:
"I'm sorry that Papa gave juice to her, but not to you."
Baby:
"Okay Mommy. Love you. Miss you. No love Papa. Josie remember. Josie remember."
O_o
12
Baby:
"Working. Surviving."
O_o
14
(Singing, in my head)
My wife made me breakfast /
Pretty pretty breakfast…
Baby saw an animated .GIF of a Pangolin, pointed, and said, "Mommy? MOMMY?!"
26
My daughter says she wants to be a game designer when she grows up. All the strength to her. Hope the world is better by then…
---
Daughter:
"I'm not cute; I'm amazing. YOU'RE cute."
27
Daughter:
"Uwaaa, wuh-woo, wuwuwuwuwuwu…"
Wife:
"Penny, leave Josie alone! Let her eat her food!"
Baby:
"Let, eat, food, Penny, yesh."
28
Daughter was moping around all last week because she heard her mother comment we'd gotten her "a pile of crap" for Christmas. Worst present?
---
Me:
"You've got a carrot hexagon, inside an apple octagon!"