I think I touched on this before, but in kinda the way that our first encounter with Uncle Andy presages Steven's later attempt to change the mind of a bigoted relative on the other side of the family, "Kevin Party" sets up just how shocking White's behavior is in that encounter.
It's a subtle thing, maybe; the show paints Kevin as the most irredeemable character in Beach City. Even the worst of the Homeworld Gems, their destructive behavior comes out of their training and biases and assumptions, which can be challenged and changed. Kevin is just a sociopath—but even Kevin, with his weird raging hard-on for himself, wouldn't stoop as low as knowingly misgendering someone. Like, seriously, who would do that?
You can excuse most Homeworld Gems, who don't have a sense of gender. But, White? She knows. And she makes a point of it.
That whole encounter with White, that's the first (and thus far only) time the show depicts behavior like this. Outside of again just not parsing the concept of gender, it was simply off the table for even the grossest, angriest, or most otherwise bigoted characters. As usual, the broadcast schedule makes things weird; just on an episodic basis, it isn't all that long between the two encounters, first showing what in real-world terms feels like startling magnanimity from Kevin, then shortly later cashing in the contrast. Kevin's attitude, it helps to establish the stakes and the nature of the threat at the show's climax.
The show saves it for the climax, because this is the big, existential fear at the heart of the show; the thing it spends five seasons avoiding, dancing around, not wanting to vocalize—yet that drives all of its thoughts and actions, much as Pearl's or Amethyst's or, yes, Pink Diamond's inner traumas define the characters that we come to know.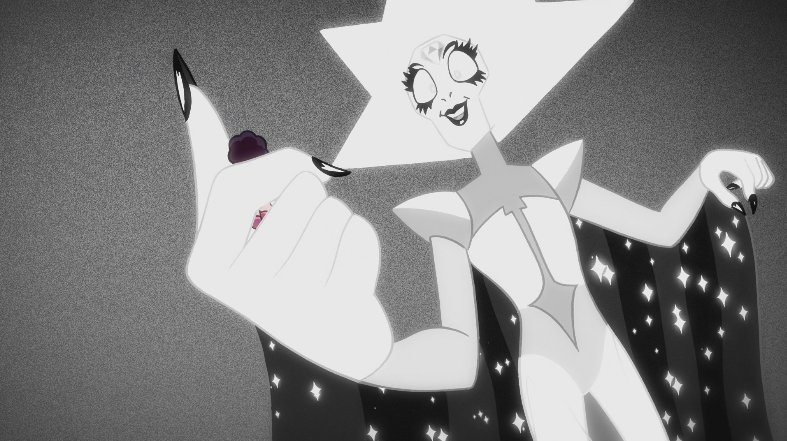 Backtracking a little: we do get a bit of a preview of White's behavior a couple of episodes earlier with one of the lesser Diamonds. Though even here you can see the terror in her face. Like all the other Gems, she's playing the role she's been handed as well as she can.
Before this episode, the show had never quite underlined the trans subtext to fusion. I mean, yes, it emerges with Stevonnie as a non-binary figure—but it turns out their human terms are exemplary of the general case, not an exception. Every fusion is a Stevonnie of sorts. It's just that Gem society doesn't have sex or gender; it has type, which fills those roles, plus race and class.
A ruby and a sapphire fusing into a new being, who calls herself a garnet—there are assigned-at-emergence garnets on Homeworld. It's, you could maybe piece some of this together before "Together Alone," but here the show just comes out and says it: in the terms of the show's mythology and metaphor, Garnet is basically trans.Yes, we'd seen some lower-ranked Gems respond to her with confusion, disdain, or worse—but this episode, as the centerpiece of the Homeworld arc, really serves to nail down the trans overtone of that arc, which in turn serves to consciously shift the narrative window of the entire show.
This business with the more abstracted misgendering toward Garnet, it then serves as a direct setup to the thitherto unprecedented transgressions of White, toward Steven, another 40 or so minutes on.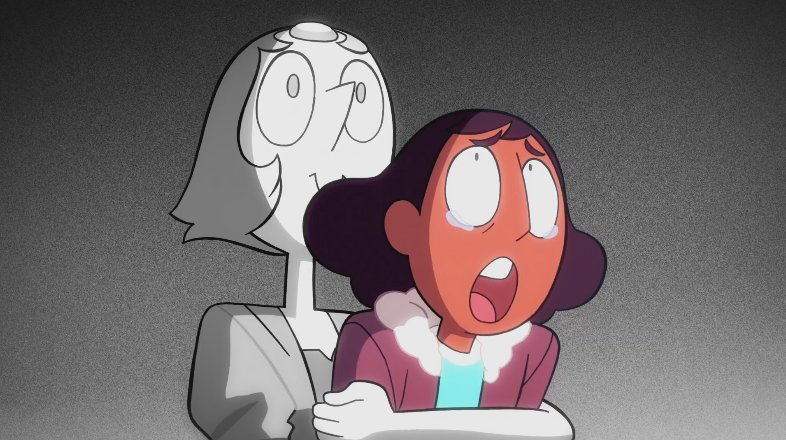 I've said before how much I enjoy the nightmare structure of this episode, which actually starts on a literal nightmare and then progresses exactly as you know it has to based on the title and premise. Unavoidably, like watching a car crash in slow motion, being helpless to stop. A while ago I mused on the show's relationship with horror, and that's what this whole episode is. But, it's a Lynchian form of horror that the show hadn't really gone into very deeply before. "Together Alone" is like Eraserhead with a PG rating.
It's easy to dismiss "Together Alone" as a slow nine minutes, then a final two minutes of discomfort at a character acting in the only way they ever would, which their entire character arc led toward, but which armchair writers love to call dumb and out-of-character, then shock. But, again, it… you know. Let's ignore the people who don't know story structure and don't know how to engage with television. And let's even ignore the episode's role as a fragment of a larger serial narrative. Just taken on its own, "Together Alone" is pretty remarkable.
As it wears in, it's coming to fit as one of the strongest, strangest episodes of the show; one of a special circle that has the most to say. It's very possibly one of the best episodes since its namesake, "Alone Together," some 120 chapters earlier—though it's a bit of a sleeper to get to that point. Like Blade Runner, it takes a lot of post-processing to work out the significance of what you've seen.
It chips at the subconscious. It's all just so very distressing, on levels far beyond the linear story events, which are quite dramatic on their own—though in a show like this you've a sense of the stakes and structure and what must, or is at least extremely likely to, happen as a result, and what won't. So it's not clear why you feel so upset, and the knee-jerk impulse is to blame something: the plot, the characters. You lash out, because the story is working as it's meant to. You're uncomfortable.
And that's kinda what Steven Universe is. The actual plot beats are the least of it, here as always. For 160 episodes, plot is incidental to what the show has to say or takes the slightest interest in exploring. It's there, and it's meticulously structured, but it's obligatory. For an episode like "Together Alone," focusing on plot is like obsessing over the big picture to Lost Highway. I mean, you can do that. But, you're kinda… you're not engaging with the story on the level that it's working, you know?
The events that happen at the end of the episode have to happen by the sheer existence of the episode. You anticipate them, if not beat-by-beat then something close, from the moment you see that the episode exists. And that's built into the structure, into the horrible anticipation throughout. So for most of those eleven minutes of a lifetime, it draws out every ounce of that discomfort and twists it, makes it a little bit weirder, a little more alien, puts you into an even less certain place than you thought you were, while you watch the horror play out to script.
At a point you think, seriously, what is this shit? This is all so unnecessary.
Which is exactly the point.
It's not just us. Ruby, Sapphire, Amethyst, Pearl, they all see what's happening. They all stand, helpless, and watch, knowing what's coming—hoping it doesn't, but unable to change things. We're all part of the party, all in concert with our foreknowledge of the awful inevitable—while the show's two effective leads wander off into the distance, the same way you-as-audience watch you-as-character in your own worst nightmares, knowing as their orchestrator exactly what's coming, screaming at yourself to stop—but you can't hear you, and you just keep going.
There's another thing here. Because the moment of horror, the thing that must not happen, it's the purest thing. It's the embodiment of love, joy, self-discovery. Stevonnie's always used to explore this duality: the euphoria, paired with the often-existential anxiety. "Together Alone" takes that to another level, and translates it into the show's most raw concept of threat.
This is the trouble of metamorphosis. There's the liberation in finding and accepting yourself, and exploring what that means, and all is fine in theory—but then, you run into the way the world responds to you. And the terror sets in. Whether that's a million peering eyes and Kevin, or an entire bigoted society. To this point, Stevonnie's anxieties have been internal, psychological. They've been developmental hurdles for them to transcend. Here, the show's whole world crashes in. The vague danger posed by their identity, always overcome by the positives to the point we've nearly forgotten the threat, it becomes manifest.
Music that long ago, in a more innocent time, represented everything pure in the world, now plays for menace, much like the chopped-up, mangled version of "Stronger Than You" that plays when Garnet meets the forced fusion experiments, or Rose's corrupted theme during Greg's info dump about the war, and what the Gems had been doing on Earth all that time.
And we're not even at White, yet. And the basic problem of Steven himself.
Anyway. Steven Universe is just such a marvel of storytelling. Most things, you know, the more you pick at them, the more they fall apart. It takes a certain level of literature for the opposite to be true, where the more scrutiny you give it, the stronger it gives back.
I just adore this show to bits. If you've been putting off watching it, seriously, just do. Especially if you're a liberal arts lit nerd, or whatever, and you know how to read a text on the level it intends. It's the very best thing, and just so different from other stories.
If you haven't seen it, this is the best possible time to do so. The show as originally conceived has wrapped; that story is done, and can be taken as a whole. There's a movie coming, and what looks like a sequel show, maybe-kinda, which will begin a new story. For now, though, you've got a whole summer to catch up. And then watch it all another four times, in your disbelief.
(Of course, the network makes it as hard as possible to watch complete, uncut, in order. Streaming is a mess; the DVD situation is worse than useless. If you want to watch it, it's better to follow less-licit routes, where things tend to be better curated, in higher quality.

How long this'll stay up, who can say, but everything here is of a high bitrate, and organized in correct story order.)